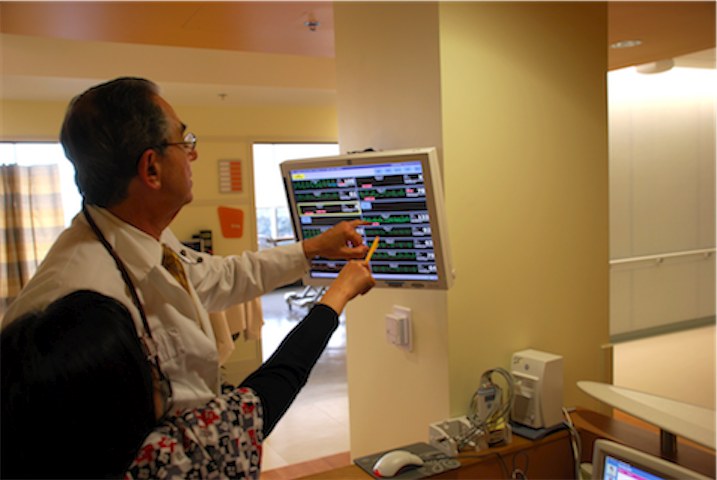 The number one cause of death in the United States is due to cardiovascular disease which can include heart attack, stroke and sudden cardiac death. That is why The San Diego Heart and Medical Clinic came up with a special Health Screening Clinic where we provide non-invasive painless ultrasonic and Doppler tests to evaluate your risk for having a cardiovascular event such as stroke, heart attack, or sudden cardiac death.
THESE TESTS INCLUDE:
CAROTID INTIMAL MEDIA THICKENING (CIMT)
This is the most sensitive non-invasive biomarker to determine your cardiovascular risk even in young individuals. Along with this test we measure your arterial age – that is how old your arteries actually are compared to your chronological age. Also looking at the carotid arteries we can tell if there is any plaque which has been deposited.
THE ABDOMINAL AORTIC ANEURYSM SCAN
In a matter of a few minutes, using ultrasound, we can detect whether an abdominal aortic aneurysm is present.
An aneurysm is a ballooning or enlargement of an artery and it frequently occurs in the abdominal aorta. If an aneurysm reaches approximately five centimeters it is at high risk to rupture. Today there are procedures which can be done to correct such an aneurysm. Through the use of ultrasound, which is a painless procedure, we can detect whether or not the aneurysm is there as well as assess the size of your abdominal aorta.
ANKLE BRACHIAL INDEX (ABI)
ABI are performed using blood pressure cuffs on the arms and ankles. The ABI is a ratio between the pressures in the arms and legs. An abnormal index represents peripheral arterial disease. Peripheral arterial disease or PAD affects 15 million Americans. It is associated with coronary artery disease and it involves large and medium-sized arteries supplying blood to the legs. If the peripheral arterial disease becomes severe it causes narrowing and clogged arteries which can stop the flow of blood.
A SIMPLE FINGER STICK
A Finger stick is all it takes to measure your total cholesterol, your LDL, your HDL, and your triglycerides and have the results for you immediately.
After the screening takes place, you will MEET WITH DR. JACK KLEID, A BOARD CERTIFIED CARDIOLOGIST AND BOARD CERTIFIED INTERNIST, TO DISCUSS RESULTS.
Putting all of this together, your cardiovascular risk can be evaluated as minimal, low, mild, moderate, or severe. Having this information is extremely valuable because there are many modalities that can be used to reduce your risk.
TO GET MORE INFORMATION OR TO MAKE AN APPOINTMENT, PLEASE CLICK HERE.